Lunch & Dinner
Lettuce wraps are easy to make, healthy, and so fun to eat!
1. Thai Lettuce Wraps with Cilantro
Recipe and photo from Laura's Lean Beef.
Ingredients
1 pound lean ground round
1/2 cup finely chopped fresh mint leaves
1/3 cup finely chopped fresh cilantro
1/2 red onion, finely chopped 1 teaspoon crushed red pepper
3 tablespoons fresh lime juice
2 tablespoons Asian fish sauce
1 head cabbage or romaine lettuce, leaves separated
Lime wedges (optional)
Directions: Sauté beef in a large skillet over medium-high heat 5 to 10 minutes or until meat crumbles and is no longer pink; drain. Add mint, cilantro and next 4 ingredients to beef and stir until heated. Spoon mixture in center of cabbage or lettuce leaves, and roll up. Serve with additional lime wedges, if desired. Source
2. Chicken Fajita Lettuce Wraps
Recipe from Kraft Foods.
3. Black Bean and Cheese Lettuce Wrap
Recipe from Bush Brothers & Co.
4. Asian Chicken Lettuce Wrap
Recipe from Skinny Taste.
5. Chicken Lettuce Wraps
Recipe by Joanne Weir.
6. Lettuce Wraps with Chili Peanut Noodles
Recipe from Whole Foods Market.
7. Mix-n-Match Lettuce Tacos 
Recipe by Rachael Ray, Food Network.
8. Spicy Chicken Lettuce Wraps 
Recipe from Table Spoon.
Source: whatscookingamerica
---
You Might Also Like
---
Related articles
In Hawaii, we add spam to everything from stews to soups even sweet desserts.
We eat more than four million cans every year or an average twelve cans of Spam per person per year. That's more than anywhere else in the world. Hawaii is so well associated with Spam, Hormel introduced a limited edition "Hawaii" can in 2003.
Photo Credit: hawaiigrill, seriouseats
I told you, even desserts!! Try SPAMMY™ Cakes; recipe here.>
---
You might Like
---
Related articles
All things you love about
lasagna
with a twist;
spinach
and sauce, plus three kinds of cheesiness, all rolled up into one perfect bundle. The best part, its simple and cheap to make.
Ingredients
1 lb. lasagna noodles
15 oz. ricotta
1 cup shredded mozzarella
¼ cup grated Parmesan
1 lg. egg
10 oz. frozen spinach
2½ cups marinara sauce
to taste salt and pepper
as needed non-stick spray
Instructions
Cook lasagna noodles until al dente (soft but not soggy… about 12-15 minutes). When they are finished cooking, drain in a colander.
While the noodles are boiling, prepare the filling. Combine the spinach in a bowl with the ricotta, mozzarella, parmesan, egg, freshly grated pepper and about ¼ tsp of salt. Mix until well combined.
When the noodles and filling are ready to go, preheat the oven to 400 degrees. Spray a glass casserole dish with non-stick spray.
Lay out a few noodles at a time. Place a few tablespoons of filling on each noodle and spread to cover from edge to edge. Make sure to spread it all the way to the edges of the noodles.
Roll the noodles up and place in the casserole dish. Pour the marinara sauce over the rolled noodles making sure to cover all surfaces. The sauce will keep the noodles hydrated and soft while baking.
Cover the dish in foil and bake for 30 minutes. Serve hot or divide into individual portions and refrigerate.
Photo Credit/Source:  crhideas, budgetbytes
---
You might Like
---
Related articles
Found this easy recipe on Pinterest and thought I'd give it a try. I made couple changes to the recipe, as the original recipe called for 1 whole stick of butter. (I felt was way to much) Using 3 tablespoons is a good amount; a healthier option is drizzling olive or truffle oil. I also used Ranch dressing seasoning instead of Italian.
This one dish meal is so simple, cheap and delicious! The chicken is moist and full of flavor. Just put everything in the same dish and bake, you can't mess it up!
Ingredients:
4 chicken breast
About 1 1/2 pounds of cubed red potatoes
Fresh or frozen green beans, about 14 oz
1 pkt of Italian dressing seasoning or Ranch dressing seasoning
3 T of butter, cubed (Substitute drizzling olive oil or truffle oil)
Directions:
Lay chicken down the middle of a 9×13 baking dish. Lay potatoes and green beans along side of the chicken. Season with salt and pepper. Sprinkle Italian seasoning over everything and top with cubes of butter. Cover with foil and bake at 350 for 1 hour.
---
You Might Like
---
Related articles
Oh WOW! This Corn Flake Crusted Grilled Cheese is the perfect meal for those busy days when you don't have much time to spend in the kitchen.
Ingredients:
Method: Melt butter or ghee in a frying pan over medium heat. Make a cheese sandwich. Dip your cheese sandwich in whisked eggs. Roll the sandwich in crushed cornflakes. Heat sandwich in the pan a few minutes on each side. Sandwiches should be crispy, lightly browned and the cheese melted.
Source: attunefoods.com via familyfreshcooking.com
Related articles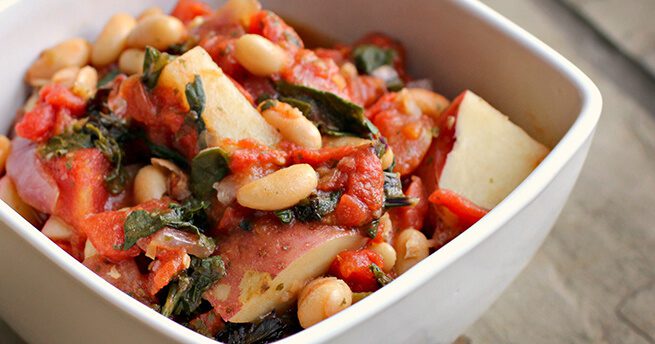 Photo Credit: forksoverknives
On a windy cool day in Hawaii, this simple Italian White Bean, Kale and Potato Stew by forksoverknives is what's for dinner tonight!
Ingredients
1 cup diced red or white onion
3 cloves garlic
2 28 ounce cans diced tomatoes (salt free if you prefer)
¼ – ½ teaspoon red pepper flakes
5 cups red-skinned potatoes cut into one inch squares
1 tablespoon dried oregano
1 tablespoon dried parsley
6-8 packed cups of kale, after it has been de-stemmed and chopped
2 15 ounce cans Cannellini beans, drained and rinsed
salt (optional)
The full recipe over at forksoverknives.
Related articles
Photo Credit: applecrumbles
Have you considered going meatless one day each week? One meatless dinner a week can have all kinds of benefits for you and your family. When you try a meatless night, you'll begin to notice the benefits like improved nutrition, lower fat, lower costs, and even improve the environment. A grain that is an excellent alternative is Quinoa. Why Quinoa, you ask? Quinoa is considered a whole grain; it's also a complete protein, containing all the amino acids necessary for building muscle and upping metabolism.
Quinoa burger recipie by applecrumbles
Get the directions at applecrumbles.
Related articles
This recipe for Coconut and Butternut Squash Soup is simple, easy, and full of flavor. You'll fall in love with this fall recipe you can make all year long!

Recipe by splendidrecipes
Ingredients:
3 tbsp. olive oil
1/2 small onion, diced
1 garlic clove, minced
4 cups chicken broth, divided
1-15 oz. can unsweetened coconut milk
1 stalk celery, diced

(I substituted the celery for a hand full of chopped spinach.)

½ butternut squash (about 2 ½ cup) peeled, discard seeds and sliced up
1 tsp. Fresh ginger, finely chopped
1 tsp. salt (optional)
Get the full recipe at splendidrecipes
Checkout These Other Popular Posts:
Related articles
Ozoni is a traditional Japanese soup made with mochi (rice cake) in it that you eat in the morning on New Year's Day. We decorate the house with mochi to dedicate to the New Year, and eat it to celebrate and hope for a good year.
Another Japanese tradition to eat rice dough with hot sweet red bean poured on top.  There is a ceremony where you put steamed rice into a large mortar and mallets are used to pound it until it is like dough.
Watch: How to make mochi.
Serves: 14 to 16
About 16 – 20 cups of water
1 large 4 inch x 4 inch piece of drieddashi konbu
Roughly ½ cup sliced carrots
Roughly ¾ cup sliced (and halved) daikon
Handful of mizuna (leaves and stems)
Roughly 2 -3 tablespoons dried konbu dashi powder (or katsuo dashi for non-vegetarian option)
6 to 7 shakes of salt
Roughly 2 to 3 tablespoons shoyu
Minimum 1 piece of mochi per person
½ block of kamaboko, sliced and then halved (optional; omit for vegetarian ozoni)
Optional: 3 pieces of chicken breast tenderloin, chopped into bite-sized pieces.
Advertisement
Related articles